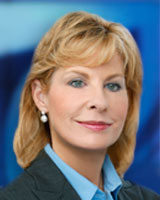 Sarah Wallace is an award-winning investigative reporter with Channel 7 Eyewitness News' The Investigators.

Sarah came to WABC-TV in 1984 as a consumer investigative reporter. Later she covered a variety of stories for Eyewitness News and was anchor of the weekend newscasts. Before joining the Eyewitness News team, Sarah was an Emmy Award-winning consumer reporter and weekend anchor for KCST-TV in San Diego. She also worked as a weekday anchor for KTTV-TV in Los Angeles and was a reporter/anchor for KCRA-TV in Sacramento.

Since coming to WABC-TV, Sarah has covered such major trials as Howard Beach and the Joel Steinberg case. She is recognized as the first local reporter to cover preparations for the Gulf War.

Throughout her broadcast career, Sarah has won numerous awards for her reporting. She was honored with the prestigious Edward R. Murrow Award for her investigative series' "Justice Denied," which exposed new evidence that resulted in the release of two innocent men from prison, and "The New War on Heroin," where she tracked the trail of heroin from its source in Colombia, South America to the suburbs of Long Island. "Heroin" was also recognized by the Long Island Fair Media Council with their Robert W. Greene Investigative Award. Sarah has also received several Emmy Awards for her reporting on such prominent stories as secret experiments conducted on children at the infamous WIllowbrook State Institution on Staten Island, inmate fight clubs organized by officers at the adolescent jail on Rikers Island and her documentary on the notorious "Son of Sam" case.

Sarah earned a BA in communications and public policy from the University of California at Berkeley. She is married and the proud mom of two children. They make their home in Bergen County, New Jersey.

---