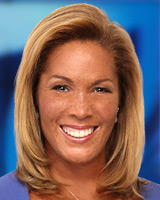 Kemberly Richardson joined the Eyewitness News team in May of 2003 as a general assignment reporter.

Before coming to Channel 7, she spent several years reporting across town at FOX5 News, as a national correspondent with BET Nightly News and as a media specialist at the Public Relations firm Fleishman Hillard International.

Kemberly started her television career behind the camera at WNET in New York and then headed west where she landed her first reporting job at WPTA in Ft.Wayne, Indiana. She then headed further west to the San Francisco Bay area to KNTV in San Jose, California.

Kemberly has been honored with a local Emmy for consumer reporting and has been nominated for several others. She prides herself on her versatility as a reporter, covering everything from Super bowls to earthquakes, social, political and lifestyle features.

Kemberly grew up in New Rochelle where her family still resides. She attended Syracuse University where she graduated with honors receiving a BA in Psychology and English.

---