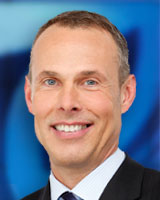 Dave Evans is ABC 7's political correspondent. He came to WABC-TV in 1999 from WFAA-TV, the ABC station in Dallas, Texas.
Evans jumped right into covering the battle for Senate between Rick Lazio and Hillary Clinton, then turned to the 2001 mayoral vote and the election of Mike Bloomberg as New York City's 108th mayor.

In Dallas, Evans was the Senior Reporter for WFAA. He has followed such issues as the American intervention in Haiti, the civil war in El Salvador and the bombing of the federal building in Oklahoma City. In 1995, Evans was the lead reporter and producer for the Dallas mayoral and council elections. In 1992 and 1996 he covered H. Ross Perot's presidential campaigns. Evans started at WFAA in 1989. A year later he had become a beat reporter for City Hall. Prior to his work in Dallas, Evans worked at KAKE-TV in Wichita, Kansas. Evans holds a BA in Journalism from the University of Missouri School of Journalism. He majored in Broadcasting as well as Advertising.

In 1995 Evans was a Texas Press Club Finalist for Best Series for his reports from Haiti. In 1996 he took first place in the Associated Press Best Spot News Story in Texas for his coverage in Oklahoma City. In 1996 Evans also won two Katie Awards. He received first place for Best Government Reporting and was a finalist for Best Documentary. Also in 1996 Evans received the American Press Best Reporter in Texas.

Evans is an avid runner, having completed several marathons.

---